Goal:
To prevent any PKO members getting hacked.
Action:
Avoid going to direct links from email and apply bank pins, recovery questions, and registering your account email.
Getting hacked?:
Will provide steps to take.
Do you know the meaning of spoofing?

Are you at all in any question?
Diagram #1 Can you tell from your inbox from this picture what is really from Jagex?

Answer: From this you can not tell..When in doubt ask questions and report. The first email from the bottom is a spoof!
Diagram #2 Is this really from Jagex?
Answer: No, its not from Jagex and you might fail to think twice about the email when you first recieved it because sometimes your first reaction is to view the evidence.

These emails are considered spoofing.
Diagram #3 Is the really from Jagex?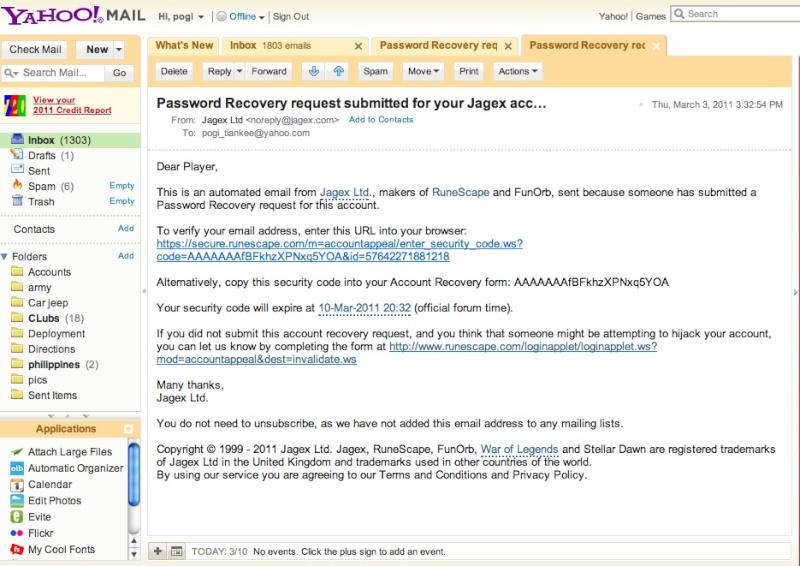 Answer: Yes, its from Jagex but when in doubt, never pursue the link from the email and open the RS homepage to handle all transactions there. The letters sizes are a little different from diagram #2 but never judge by that.
Got Hijacked Procedures
1: Go to Rs Homepage, Account Management, And report stolen password and change it.
2: Go to Rs Forums, QFC: 250-251-131-62276467 (Mod Kat's Thread "Hijacked Today?") and QFC: 103-104-12-58898735 (Scammed Websites)
Report all possible information and details ASAP and Jagex Investigating Team will track the hacker/hackers.
If you have any more information or how to prevent it, let us know.
Last edited by pogito007 on Fri Mar 11, 2011 3:45 am; edited 2 times in total