Greetings!
Here's a Guide for those whose having Problems Applying.

First, You Need to Introduce yourself to Us. The Introduction Board can be found at Apply for Pinoykantao -> Introductions.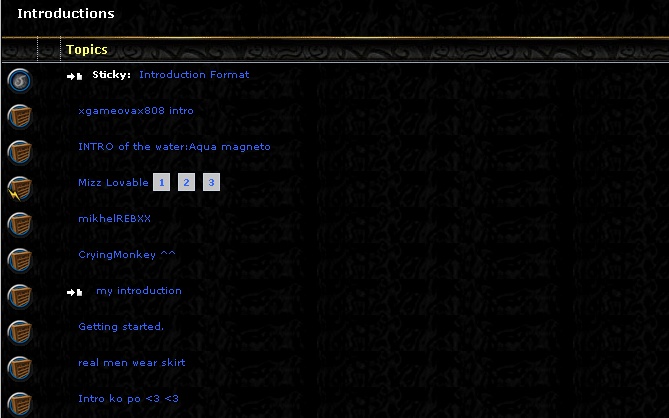 There's a Sticky Post here,the Introduction Format. It's up to you if you're gonna use it. What's important is that you introduce yourself. After Posting, You might wanna get the URL of your Intro, You'll use it later on. Here's an Example:
http://pinoykantao.crazy4us.com/introductions-f9/my-name-is-schala-d-t36.htm
(a Link to my Intro)
After that, Proceed to FA Applications Board. This is where the Magic Begins.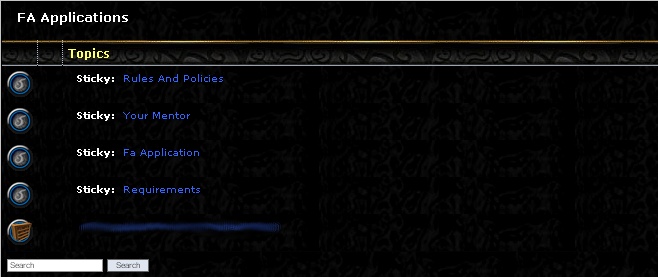 As you can see, There are 4 Sticky Topics. All of Which you'll need to Read.
First Sticky is Rules and Policies. You'll have to read it before applying. There is also a code in there that You'll need to copy and paste at the application.
Next Sticky, Your Mentor. In here, Please Kindly Pick a Mentor. I have nothing to explain here.
FA Application. I really wish this came after Requirements. Skip this first.

Requirements. You'll find here the Requirements for Joining the Clan. NEXT!

FA Application. In this Topic, Includes the Application Form. You'll have to Copy it, Make a New Topic, Then Paste.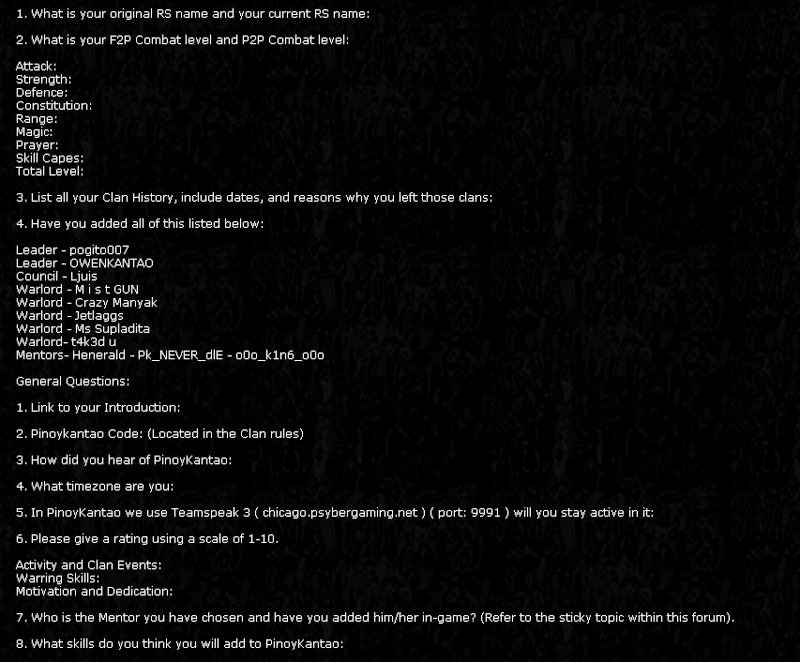 I wouldn't elaborate all questions, for it will take too much time. I'll just explain the hard/complicated ones.
Gen. Q. #1 = Link to Introduction
~ Place the URL of the Intro you made earlier.

Gen. Q. #2 = Pinoykantao Code
~ This code can be found @ the Rules & Policies page.
Gen. Q. #5 = TeamSpeak3
~ Everyone needs TS3 for wars. Having no Mic is not a reason para makalusot dito. You just need to Listen, That's all.
" longdesc="64" />
Hmmm..I think I covered all the hard stuffs. I hope my Guide helped New Applicants. Kahit na Ontiiiii lang. I just hope they see this.
If there are any questions, Please feel free to reply. I'd be happy to oblige.

~iLoveSchala. <3